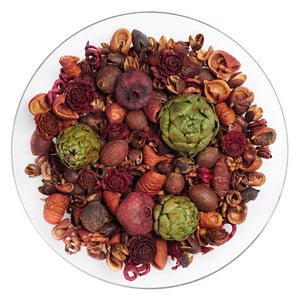 Our potpourri is a decorative representation of the unique and high quality fragrances that Allure has to offer. Each botanical blend is displayed in clear packaging to showcase the colorful nature-made elements we have chosen to perfectly depict each fragrance, and you will notice that there are no synthetics, wood chips, or fillers in any of our blends.  Blends may vary based on availability - since all of our elements are grown in nature we cannot anticipate crop failure and other factors that might affect color, size and overall item availability.

Small (bag) - 4 cups: - $15.00
Medium (box) - 10 cups: $25.50
Bulk (bag) - 1.8 gallons: $70

This clean and refreshing springtime blend is the perfect pairing of sweet apricot and crisp basil.