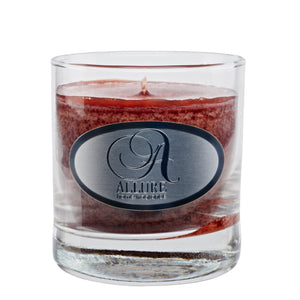 Now in a smaller size! Our 8.5 oz. candle comes filled with Allure's highly fragrant mottling paraffin that creates an elegant glow, and a 100% cotton wick for a clean, long-lasting burn.

This candle comes packaged in a cello bag tied with a bow, a perfect gift for yourself or someone else!

After a 40 hour burn time, this glass is the perfect size to re-use as a cocktail tumbler, to store trinkets, or even to place a small bouquet of flowers.
Our fall favorite is a unique blend of orange, fig, and earthy musk.