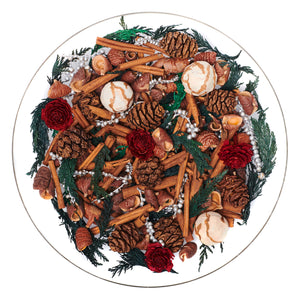 Our potpourri is a decorative representation of the unique and high quality fragrances that Allure has to offer. Each botanical blend is displayed in clear packaging to showcase the colorful nature-made elements we have chosen to perfectly depict each fragrance, and you will notice that there are no synthetics, wood chips, or fillers in any of our blends.
Small (bag) - 4 cups: - $15.00
Medium (box) - 10 cups: $25.50
Bulk (bag) - 1.8 gallons: $70
For those who appreciate the most chic of décor... you will love this natural potpourri blend! Cinnamon & Nutmeg add a holiday twist to our best-selling fragrance, Vanilla Almond.